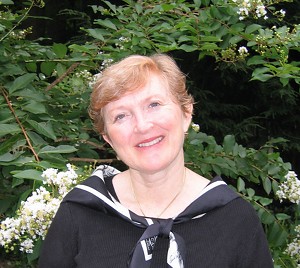 Nancy McConeghy is an artist of color, light and serenity. Her watercolors, offered in limited editions, were inspired by visits to the English countryside and the Provence region of France, particularly the quiet villages. As a way of sharing her travels, she has painted these images offering scenes of peace and serenity.
Nancy grew up in Maryland, the youngest of three children. Her parents instilled art appreciation through their own love of art, museums and traveling. She received her BFA, graduating with honors, from Drake University in Des Moines, Iowa. Her junior year was spent in Florence, Italy. It was there that her passion for art, light, and travel become a lifelong inspiration. After graduation she taught art in Richmond, Virginia for Henrico County schools.
She and her husband moved to Peachtree City, Georgia over 30 years ago. During the years of raising children, Nancy created a thriving business called House Portraits, creating custom pen & ink, as well as watercolor renderings of homes, churches and businesses.
Nancy is active in the Newnan Coweta Art Association and has exhibited in shows in Maryland and Georgia.
She is also a featured artist at Fine Art Marketplace where giclees can be seen and ordered online at fine art marketplace.
Over the years she has been blessed to travel extensively in Italy, France, and England. Walking the streets of the renaissance artists in Italy and the paths of the impressionists in Provence has created the heritage and inspiration for her art. Desiring to share the tranquility and splendor experienced in her travels is the impetus for her art work.